Real Celebrity: The Beatles
John Lennon
Born: October 9, 1940  Liverpool, England
Died: December 8, 1980  Shot by Mark David Chapman
John Lennon co-founded The Beatles, he did the lead vocals, played guitar, and wrote many of the bands hit songs.  The Beatles were not his first or last musical endeavor, and between everything he had his hands in, he came out with 25 #1 singles on the U.S. hot 100 chart. He is also in the Rock and Roll Hall of Fame twice, once with The Beatles, and again for his solo work.
Paul McCartney 
Born: June 18 1942  Liverpool, England
Currently: Keep an eye out for Paul in Pirates of the Caribbean: Dead Men Tell No Tales (2017)
Paul co-founded The Beatles with John, and he too wrote many of the bands hits, while also doing vocals and playing the bass.  After The Beatles broke up, he went on to start another highly successful band, Wings. With a career spanning decades, Paul has raked up 21 Grammy's, been inducted into the Rock and Roll Hall of Fame twice, and been a part of 32 #1 songs on the billboard Hot 100 chart.
George Harrison
Born: February 25, 1943  Liverpool, England
Died: November 29, 2001  Lung and Brain Cancer
George "the quiet beatle" Harrison was lead guitarist for the band, but also had a hand in writing some of The Beatles biggest hits like "Here Comes The Sun", which he also did lead vocals on. After the breakup of The Beatles, George continued to make music, joining Jeff Lynne, Roy Orbison, Bob Dylan, and Tom Petty in the super group The Traveling Wilburys, among his many music and film projects.
Ringo Starr
Born: July 7, 1940  Liverpool, England
Currently: Spreading the word about Ron Howard's new documentary The Beatles: 8 Days A Week – The Touring Years
Ringo was drummer for the band, but did you know he also had a hand in writing some hits and doing lead vocals on occasion?  Not only did Ringo sing "Octopus's Garden" from Abbey Road, he wrote it too, along with dozens of others.  Among the handful of other songs he did lead vocals on was "A Little Help From My Friends".  And to top of all the musical talent, Ringo is also an actor, and can be seen (and heard!) in a bunch of movies and childrens TV show.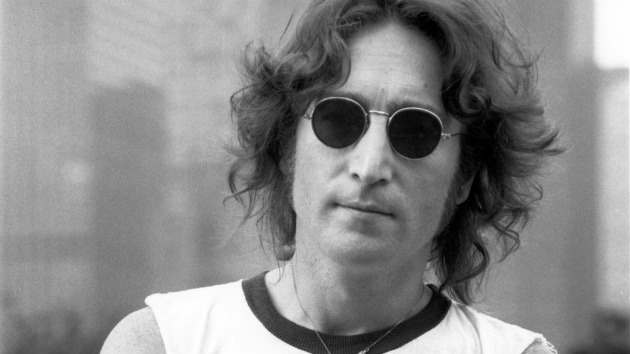 When John Lennon of the Beatles was tragically murdered in 1980, his controversial widow, Yoko Ono, took charge of his legacy and his fortune… but where did that leave his two sons?
As arguably the most successful songwriter of all time, what did Lennon leave behind? And what did the King of Pop have to do with Lennon's legacy? READ MORE
On December 8th 1980, Mark David Chapman shot John Lennon outside the famous Dakota apartment building opposite Central Park in New York. By killing the iconic founder of The Beatles and one of the most famous people on the planet, Chapman immediately joined the pantheon of the most notorious killers of the 20th Century.
John Lennon was one of the most influential and important artists in music history. But the public face of peace, love, and revolution was a mask. Behind his righteous persona was a troubled man crippled by a traumatic childhood. And when the private truth became public, it ultimately cost him everything.
John Lennon was one of the greatest singers and songwriters of all time. A peace activist and multi millionaire Lennon was shot dead by a crazed fan. He left a legacy that will live forever and a giant fortune to his wife Yoko Ono. He also left a disgruntled son, Julian, who wages a battle lasting almost two decades for his share of his father's fortune and history.
As one of the Fab Four, George Harrison reinvented rock and roll and, in the process, became one of the biggest rock stars of all time.  After dying at age 58 due to lung cancer, however, his desire for peace and love appeared lost on those who scrambled to grab a piece of the fortune he left behind.
The Beatles in Social Media
Twist and Shout

It's music that is stronger than yourself. It's an electrifying feeling that invades your body. It's the magic of John Lennon's voice. Witness this act live: http://cirk.me/1UhrVpB

Posted by The Beatles LOVE by Cirque du Soleil on Thursday, July 7, 2016
The Beatles – Twist & Shout – Performed Live On The Ed Sullivan Show 2/23/64
For the many who witnessed The Beatles' early appearances on British television, this song is synonymous with those exciting era–defining times. The power of the band's performances and the recording owes so much to John's searing vocal. For their debut album, John recorded his vocal in one take at the end of a marathon recording session on February 11th 1963.
The Beatles iconic performance on the roof of the Apple building – the last time they performed for an audience
Written by John as an expression of his love for Yoko Ono, the song is heartfelt and passionate. As John told Rolling Stone magazine in 1970, "When it gets down to it, when you're drowning, you don't say, 'I would be incredibly pleased if someone would have the foresight to notice me drowning and come and help me,' you just scream."
John Lennon covering Ben E. Kings' "Stand By Me"
Whether you like Yoko Ono or not, after watching this video, there can be no doubt in your mind that John loved her very much.  This video is filled with cute candid moments with the couple, and if the song choice doesn't tell you a thing or two about their relationship, I don't know what will.