Brett Donahue to Play John F. Kennedy Jr. in the REELZ Mini-Series 'The Kennedys-After Camelot'
05/25/2016 by REELZ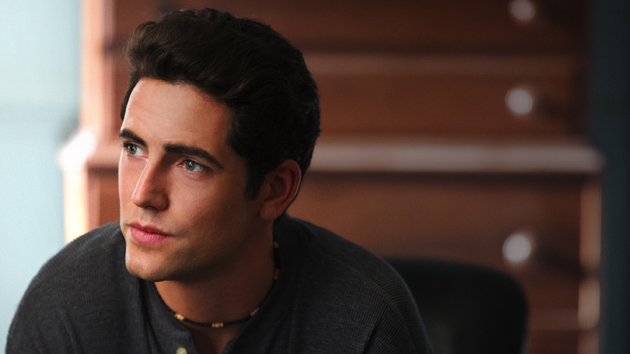 The world has been searched, and JFK, Jr., has been found.
Brett Donahue has been cast in the role of John F. Kennedy, Jr., in the REELZ four hour mini-series, The Kennedys – After Camelot.
As the son of President John F. Kennedy and First Lady Jacqueline Kennedy, John F. Kennedy Jr. was only three years old when his dad was assassinated. JFK Jr. grew up surrounded by Secret Service and faced his teen and young adult years with paparazzi and intense public interest in everything he did. Balancing personal interests and ambitions, family expectations and a nation's dreams for a rebirth of Camelot, JFK Jr. navigated the complexities as a well-liked and respected man.
As previously announced, The Kennedys-After Camelot stars Katie Holmes as Jackie Kennedy Onassis, Matthew Perry as Ted Kennedy, Game of Thrones' Alexander Siddig as Aristotle Onassis, Kristen Hager as Joan Kennedy, with Diana Hardcastle and Kristin Booth reprising their roles as Rose and Ethel Kennedy from the Emmy Award®-winning miniseries The Kennedys.
"We're thrilled to introduce Brett Donahue in the role of John F. Kennedy Jr.," said Stan E. Hubbard, CEO of REELZ. "Brett completes an outstanding cast as he steps into portray such a well known and respected person. We are thrilled with the fit and we're proud to bring this story to life for our viewers."
"Our casting team looked at dozens of young actors for this iconic role before we landed on Brett Donahue—whose final audition was absolutely riveting," said Michael Prupas, CEO of Muse Entertainment, producers of the mini-series.
Brett Donahue, whose work includes theatre, film and television, may be best known to American audiences from his roles in film and television productions including Total Recall (Columbia Pictures), Suits (USA Network) and Beauty and the Beast (CW/CBS).
The Kennedys-After Camelot is based on the New York Times best seller, "After Camelot: Personal History of the Kennedy Family 1968 to the Present," by best-selling author and biographer J. Randy Taraborrelli. Jon Cassar (The Kennedys) and Katie Holmes are directing from scripts by Stephen Kronish (The Kennedys) and Sandra Chwialkowska (Lost Girl). The Kennedys-After Camelot project was brought to producer Muse Entertainment by Keri Selig of Intuition Productions (The Secret Life of Marilyn Monroe) who serves as an executive producer. Michael Prupas, Katie Holmes, Matthew Perry, Jon Cassar, Stephen Kronish, J. Randy Taraborrelli, Evan Tussman, Irene Litinsky and Jonas Prupas also serve as executive producers. Also serving as executive producers are Stan E. Hubbard, CEO of REELZ, and Jonathan Koch and Steve Michaels of Asylum Entertainment.
The Kennedys-After Camelot reunites several key crew members from the Emmy Award®-winning miniseries The Kennedys. Under the direction of Jon Cassar who won the Directors Guild of America award for best miniseries with The Kennedys, returning crew members include production designer Rocco Matteo, sound mixer Henry Embry, makeup department head Jordan Samuel and director of photography David Moxness – all of whom earned Emmy Award® nominations for their work on The Kennedys with Embry earning a win for Outstanding Sound Mixing for a Miniseries or a Movie and Samuel a win for Outstanding Makeup for a Miniseries or a Movie. Also returning are first assistant director Libby Hodgson, casting director Deirdre Bowen, dialect coach John Nelles and writer Stephen Kronish.
Muse Distribution International is handling all international distribution.